One of the best ways to build trust with prospective customers is with good web design.
It can no longer be argued that a website's design is and will continue to be one of the most influencing aspects on a customer's initial opinion of a company. Studies show that just updating the design to make it look more modern can increase conversion rates by upwards of 33%.
Split testing something as small as the image or headline can make your visitors 2x-3x more likely to convert into a customer.
But good web design that establishes trust goes beyond even gaining new customers. For instance, many customers visit a business's website to research a product before buying – and oftentimes to help make a decision while shopping.
Without trust, customers won't just refuse to make a purchase – they will also tell others about their bad experiences, and possibly even write bad reviews. Other customers who are concerned about the legitimacy of the company will then look up these reviews, pushing others toward a competitor.
The end results of an untrustworthy web design are quite exponential.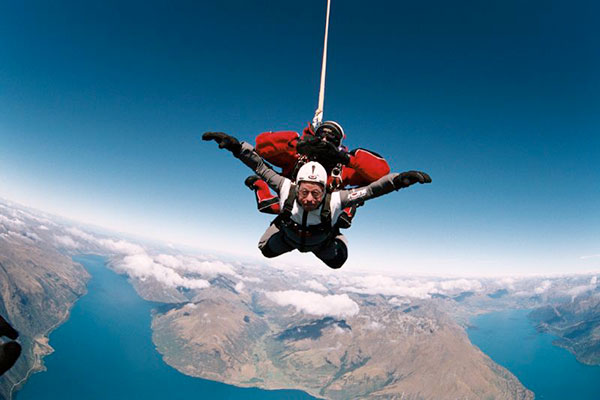 Photo Credit: Prince Roy via PhotoPin cc
Before we discuss good web design that builds trust, let's look a few top aspects of trust that a business needs to portray to gain loyalty from customers:
Honesty – Customers need to be sure that the business will tell the truth about what a product can do, providing complete information on the product, and also be truthful in what the company can do.
Follow-through – Once a company states all they will do for a customer, it then needs to complete everything promised.
Ethical – Basically, customers need to know that a business will treat a customer fairly and lawfully.
Cares about customers – A company needs to show customers that it wants to provide the best service and product possible; a customer wants to feel that a business honestly cares about them as a human being, not just as a consumer.
Security – Online purchases are a huge barrier for customers to overcome; they have to feel completely safe before making a purchase on the web.
Quality products – A company's products need to meet the customer's expectations as provided by the descriptions on the site; otherwise, the trust is completely destroyed.
Legitimacy – Plain and simple, a consumer has to believe that a company is "real," or no trust can be established.
It's obvious by looking at these trust factors above that maintaining trust beyond that first purchase is up to the company.
Web designers, however, have the very weighty job of making sure that a company can gain trust in the first place. But what exactly does a web design need to include to establish a consumer's trust? Let's take a look…
Build Trust with Context
The Digital Trust Initiative completed a very interesting case study, which they called UX2014.
This study took a look at the prototype of health insurance comparisons by the IDEO, the idea being to help people better find and compare plans under the Affordable Care Act.
What the study revealed is just how important context is to consumers: if the services weren't relevant to solving their problems, their trust in the company was incredibly low.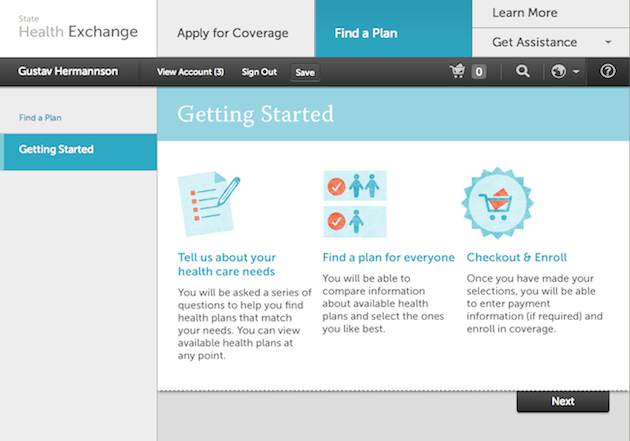 Most of the testers were frustrated because the site made it difficult to find the right information they needed to feel comfortable in a decision, such as having to wade through 13 pages of information and no way to jump to relevant details.
Others felt like the right information simply wasn't there, even in 13 pages, so would have to continue research on a 3rd party site. Testers came away from the experience feeling like the site was dishonest and didn't have their best interest in mind.
Now, you still definitely want to make sure the content is complete. For instance, as found in the study above, succinct and clear content that is easy to understand and broken up neatly with bullets or boxes is much more trustworthy than pages of huge blocks of text.
A huge factor in helping visitors find relevant content is to organize it neatly and make it digestible. And, of course, don't forget to scour the site for typos.
Good Web Design Includes Trust Symbols
Placing seals and other trust visuals on the site, especially the homepage, is probably one of the easiest ways to build trust through good web design.
The following are musts that should be included if at all possible. Of course, some of your clients may not have all of these elements gathered yet, but emphasize how important it is to include these on the site quickly.
Any awards and press mentions are always great elements to mention on the home page, since they establish legitimacy in the minds of consumers.
Another great way to show that a company is honest and ethical is with guarantees, such as a satisfaction guarantee.
Security seals such as the BBB seal or a secure checkout such as TRUSTe and VeriSign help a customer feel that their private information is safe.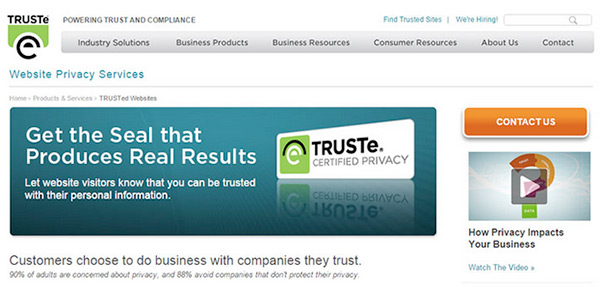 One huge oversight on the part of cyber businesses is the company location. Contact information also establishes trust, but most usually include at least the invitation to email or call for help. The physical location shows customers that a company is real enough to be trustworthy.
Finally, don't forget to include current and past client logos. Even if the business has not served famous clients, putting a list of clients on the site shows visitors that others had a pleasant enough experience to be associated with this company.
Never Underestimate the Power of the Human Factor
When a person lands on your website for the first time, you typically have no longer than a split second to make a good impression before that person surfs away
This excellent statement from SocialMouths may be a bit exaggerated but not by much. Sites have anywhere between 6 and 10 seconds to capture attention and move visitors to take action.
This is why including human factors in the design is so very important. If a visitor can immediately see a company is made up of real people and has real, loyal customers, that visitor is much more likely to remain long enough to become a trusting fan also.
Transparency is the keyword here. For instance, don't just include social media buttons (although these are important) but also elements such as the Facebook "Like" box that shows who has liked the company's Facebook page. You can also place icons that reveal how many are following the website on Twitter, the RSS feed, and more.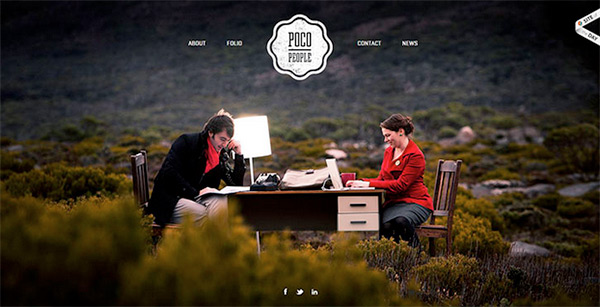 Poco People includes a very unique photo of the partners in a full screen image. 
You probably already know to avoid stock photos and use pictures of the owners, employees, and even the company building. But you can also be bold and show them in action right there on the homepage.
People are much more likely to believe in the legitimacy of your company if you show your workers in action than in a website that contains generic stock photos.
Don't forget, too, to include customer testimonials and case studies.
But today it's not enough to just include quotes with a name and location, especially since these can be quite easy to fake. Visitors will be much more likely to trust in a company that includes reviews from real, live Twitter users, for instance. Include a photo along with the Twitter or other social media link for to create the biggest and best impression.
Finally, interactive features show visitors that a company definitely has the customer's best interest in mind.
You may want to talk to your client about including features such as a customer login with the ability to create a unique profile with saved preferences, forums, the ability to set appointments online, and of course a killer search bar with filters.
A rating and reviewing system also helps visitors see that others have bought and approved the products – and also says a lot about a company that allows both negative and positive reviews right on the site.
Things Should Behave as Expected
There really is something to following norms, especially on the web. A design should look unique, for sure, but the website should conform to the ways of the Internet. Also keep in mind the statistics concerning mobile searches and make your website mobile optimized.
One way that this is accomplished is with elements that behave as users expect. Shaun Cronin emphasizes in his article on TutsPlus that
when things function as expected, we feel more comfortable; it creates confidence and a sense of familiarity – aspects that are essential for trust.
A few of these functionalities include clicking on the site's logo to go back to the homepage, email confirmations for signing up, filters to make searches more tailored. And a huge biggie is that a site contains no broken links. Even just one broken link can put a small hole in the user's trust that eventually spirals into moving onto a competitor's site.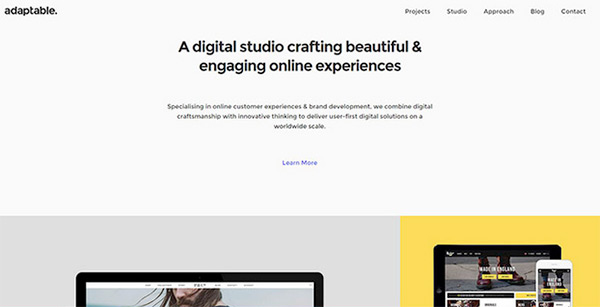 WeAreAdaptable has lots of white space and clean layout with a nav bar that is accessible at all times on the homepage.
This downward spiral is why Cam Secore on Moz.com urges designers to really pay attention to the details, such as white space, which is directly related to readability, a factor that he says "impacts perceptions of trustworthiness."
Don't clutter the visual design or visitors will struggle to trust the website
Another important factor in helping to make the site behave properly is with a quick load time. Make sure to balance the pizazz in the design – those elements that can hinder load time – with how quickly a customer can open a website and then navigate through it.
No matter how fancy your parallel scrolling, a user won't remain long enough to figure the site out if the load time is too slow.
And Don't Forget to Make it Look Nice…
Chris McCarthy points out in his article on ClearGoalMedia.com just how important it is to have a good, professional visual design. What exactly does this mean?
Well, preferably it follows modern trends, or at least is a classic design without looking out-dated. You don't have to create an over-the-top visual design for every single one of your clients, and you don't have to spend hours creating each and every element in the design.
Just make sure that it looks pretty and is unique enough to be distinguishable. You maximize your time by downloading interesting free vector graphics from communities like Vecteezy which you can easily edit and modify to make unique.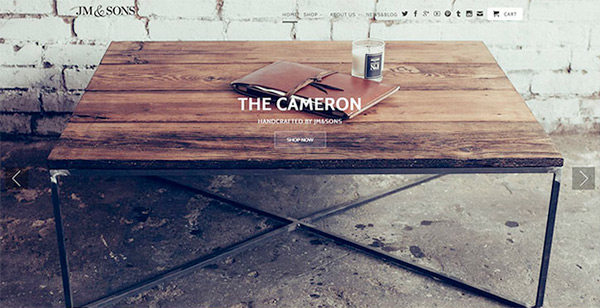 JM&Sons immediately portrays quality with the full screen image slider.
Create a professional and nice-looking site and include the elements mentioned above, and you'll help your client gain new customers much more easily. User experience friendly websites are in the top of the list when it comes to online purchases.
We all know that a successful client is a loyal one that will trust you with future projects, just as their customers trust them enough to continue beyond that first purchase.
Have a new/redesigned website and need help with launching it the SEO friendly way? Ask for our help!