In the digital marketing world there's an annoyingly persistent myth which undermines the work of marketers all across the world.
That myth is that great content is enough.
This all stems from that often repeated marketing mantra that content is king. The idea that if you write good content, readers will flock to your website, consume all your blogs and shower you with comments, shares and backlinks.
Sadly, it's just not true. It's a fantasy concocted by industry onlookers who spin generic blogs about content rather than actually designing, implementing and testing strategies.
I'm not exaggerating when I say the If You Build It, They Will Come content strategy is seriously and dangerously flawed, and will sink your website if you follow it blindly.
You see, a content strategy is much more than just content creation. It's a strategy. It's a comprehensive approach to marketing that encompasses the creation, publication and distribution of content.
It's the way you create content and use it to attract readers, engage influencers and earn backlinks.
One of these strategies is the Skyscraper Technique from Brian Dean of Backlinko fame. With so much floating around the web either praising and damning the technique, I decided to put it to the test myself and see whether it actually could deliver the results it promised. This post comes as an advanced method beside Thoughtful Blog Comments for a perfect linkbuilding strategy posted earlier in Seonick blog.
How Does It Work?
The Skyscraper Technique is an absurdly simple system. In fact, it can be broken down into three simple steps:
Step 1: Find some link-worthy content

Step 2: Make something better

Step 3: Outreach your content to the right people

That's all there is to it. Find something good, make it better and show it to the right people.
Brian explains the technique with this rather apt analogy.
"Have you ever walked by a really tall building and said to yourself: 'Wow, that's amazing! I wonder how big the 8th tallest building in the world is.'

"Of course not.

"It's human nature to be attracted to the best.

"And what you're doing here is finding the tallest "skyscraper" in your space…and slapping 20 stories to the top of it.

"All of a sudden YOU have the content that everyone wants to talk about (and link to)." [Source]
Sounds simple, right? Well, here's how it works in practice.
Step 0: Find a problem
Our strategy actually starts a little bit before Brian's and to explain why I'll need to tell you a little bit about our agency.
When we were first sketching out our own content strategy, we decided that our blog was going to be tailored towards providing practical advice to SMEs and freelancers.
What payment gateway should I use? How should I run a giveaway on social media? How can you leverage negative feedback in your marketing? Which of these payment gateways is going to cost me the least? And so on and so on.
You have a problem and we have the solution. It's a match made in heaven.
However, for this content strategy to work we needed a problem. A good problem. A right doozy of a problem that hadn't been documented within an inch of its life.
Thankfully, one landed right on our doorstep.
You see, a few months ago we took on a new SEO client. Let's call them Blueridge Cupcakes. This gourmet patisserie used to work with one of our rivals and had been with them for years. However, for whatever reason they decided they wanted a change.
As their contract was expiring, they stuck their SEO contract out to tender and digital agencies across the country buried it under pitches, presentations and applications. We threw our hat into the ring too and, after several rounds of competition, won the contract.
Champagne and caviar all round!
The first thing I did was review all the work our competitor had previously done. I was actually quite impressed. Their campaign was content-forward and ethical, the sort of stuff that wasn't ever going to come back to bite them.
They had created a handful of really attractive pieces of content and these were continuing to attract visitors to the site in their droves.
However, two weeks into Blueridge's new campaign I received an email forwarded to me from their marketing manager. It's originally from Getty Images.
Sigh.
Now, anyone who's worked in digital knows exactly what an email from Getty means: someone's used an image they weren't supposed to use and it's going to be expensive.
Sure enough, after a quick dig we discovered a nine-month-old blog that used an image of a sunset from Getty's RM section.
It was just one image, and not even a particularly good image at that, but it was one that we simply didn't have the right to use.
A quick Google for sunset found the image on some blog that collected pictures of sunsets. Hardly exculpating in the eyes of a stock photo goliath but certainly an explanation for how someone confused it for an image released for free use.
While it was frustrating to shell out money for someone else's mistake, the whole ordeal did give us a problem to solve. Silver linings and all that.
You see, I don't think people use copyrighted material because they're cold, heartless and hate photographers. I think they use copyrighted images because they simply don't know where to look for quality free alternatives.
And just like that we had a problem to solve.
Step 1: Find some link-worthy content
So we had got a problem. The first step in the Skyscraper Technique is to find a model piece of content. Something unique and valuable. Something useful and helpful. Something people genuinely want to link back to.
Brian calls content like this a linkable asset.
So off to Google I went and did a quick search for Best free stock photography sites. The top result a Bootstrap Bay article called 17 Amazing Sites With Breathtaking Stock Photography.

I took Bootstrap Bay's article and ran it through Raven's Backlink Explorer, which returned 1,781 backlinks pointing at the article.
An additional 689 shares on Facebook, 285 retweets on Twitter and 465 mentions on LinkedIn confirmed my suspicions: this was was definitely a linkable asset.
Step 2: Make something even better
The second step in the Technique is take your linkable asset and make it even better.
I set out to improve Bootstrap Bay's article across three key areas: length, relevance and detail.
It's worth emphasising here that I wasn't trying to do anything original or innovative. All I was trying to do was take something that was going well and make it better.
The first thing I did was increase the number of entries. I scoured my own bookmarks list, trawled online discussions, borrowed from other Best Stock Photography Sites lists and finished off my search with crowdsourced recommendations from our social followers.
When I was finished, I had almost three times as many websites as the Bootstrap Bay article.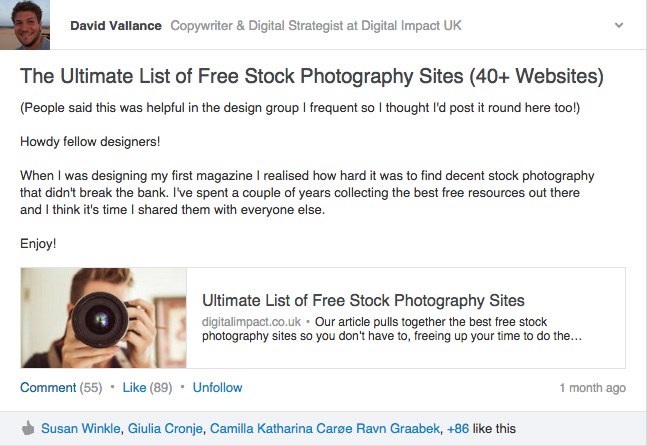 Next I wanted to make sure my article was the most up-to-date article on the web. So off I went on the hunt for the freshest sites out there. If the site was too new to have been included in the Bootstrap Bay article, I wanted it in mine.
The quality of the website blurb was the final thing I wanted to tighten up. I focussed on writing blurbs which gave a brief background of each site, explained whether it has a speciality and detailed what license images are released under.
Once it was finished, I published the full article on our blog and promoted it through our usual channels.
Step 3: Outreach your content to the right people
Linkable asset identified and improvements made, it was time put the final part of the technique into action.
I headed back to Raven and grouped the 1,781 backlinks by linking domain. That gave me a list of 104 websites which linked back to Bootstrap Bay.
I fired up BuzzStream and used the list of contacts to create a prospecting list. Over the next few hours, I worked through the list and updated each entry with contact details.
During the prospecting process, I filtered out a few sources that it didn't make sense to contact. The final list stood at 96 contacts.
I emailed all of the contacts with the following template:

And that's it. That's the Skyscraper Technique. Find a linkable asset, improve it and promote it. But does it work? Did my new content earn any backlinks?
Let's find out.
Results
Of the 96 emails, I received 20 replies and 12 links. That's about a 12 percent success rate, which is actually slightly better than what Brian achieved in his own case study.
Some replies even brought a nice warm feeling, including this one from the owner of an online consultancy.

Now, if you're one of SEO old guard, you might be my results as insignificant. You can buy 800 "high quality backlinks" on Fiverr for five bucks so why would anyone be fussed about a dozen?
Well, while it's true that you can buy links for little more than pocket change, that doesn't mean you should. The vast majority of bought links are garbage and given time will probably hurt your website.
Conversely, Skyscraper links are generally very good. They're natural, they're from websites related to my niche and they're permanent. They are the type of links that Google likes and that makes pretty them safe for the future.
Since I put the Skyscraper Technique into effect, it's having a measurable effect on traffic too.

Since I began started the Skyscraper Technique, organic traffic to my article has increased by 72 percent. Site-wide organic growth for sits at around 40 percent during the same period.
Want similar results for your website? Contact us for a free SEO consultation!
Does it work?
The Skyscraper Technique divides digital marketers. Some swear it's a foolproof method for SEO success and others label it yet another SEO fad.
Dale Cudmore is one of the the Skyscraper Technique's biggest critics and didn't pull any punches in his infamous blog Falling From A "Skyscraper": Why Famous SEO Strategies Won't Work For You.
His argument is that most SEO strategies suffer from the Facebook Effect, that you see all of the successes and none of the failures.  
Cudmore decided to put the strategy to the test and followed Brian's instructions to the letter. However, he was unable to replicate Brian's results. Yes, he did earn some backlinks but they had nowhere near the effect Brian writes about in his case study.
From my own results, however, I can see legitimate value in the Skyscraper Technique. I followed the three basic steps and I did earn links and it did have a long-term positive effect. And while I didn't build the biggest content skyscraper, my article certainly drew in a sizable crowd.
My advice to curious digital marketers would be to give the technique a test and see if it works for you, your business and your industry.
If it works, you've gained a bucketload of links and established quality traffic streams. If it doesn't, you've still got your content and you've made contact with hundreds of potential future influencers.