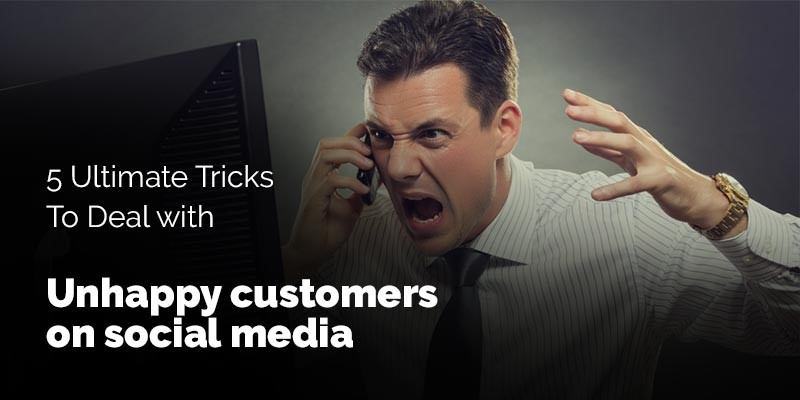 "You can't make everyone happy!" Cliché but true! No matter how good your products are, or how awesome your services may be, there will be some customers who will be unhappy with you and will show their displeasure on different channels including social media.
In fact as a business owner, you will be receiving negative comments on social media at some point or the other.
Yes, it is unpleasant and even uncalled for but the big question is – What should you do?
Should you simply ignore such comments?
Or should you choose to respond?
The answer is 'Yes'! Of course, you should respond. Ignoring such comments won't make them disappear from your social media accounts. Remember, running away from complaints or negative customer reviews would only show how ignorant are you towards your customers and business.
So, the next time you find one of your customers jabbing about your products or services on Facebook or Twitter, make sure that you or your team responds quickly.
Do You Know?
45% of customers share negative reviews on social media. (Source: TruConversion.com)
Over 1 million people view tweets about customer service every week. Roughly 80% of those tweets are negative or critical in nature. (Source: Adweek)
For every 1 customer complaint online, there are 26 other customers who share same feelings but don't say anything. (Source: Groovehq.com)
65% customers are frustrated by inconsistent experiences across channels. (Source: TruConversion.com)
Churn rate can increase by 15% if organizations fail to respond to customers on social media. (Source: Gartner)
With these stats in hand, it's easy to understand how responding in a timely manner can help you convert them into loyal ones.
If you're confused on how to turn your angry customers into happy ones, here are 5 ultimate tricks that will help you turn unhappy customers into brand loyalists.
Stay Updated on Conversations – As a marketer, you should have knowledge of what people think and talk about your brand. It is important that you be social and participate in all conversations about your brand. Remember, being a great listener will help you offer better response to your customers.
Here's an example:
Check out how this yoga-wear retailer Lululemon Athletica witnessed a massive decline in its revenue  because they did not pay heed to what customers are saying about their product on social media on time and respond to them.
You will find that a lot of people took to social media to talk about the brand. However, there was no response from the company on the social media platform or on their website that made the matter worse.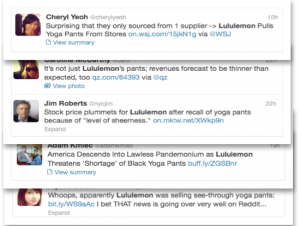 Respond Quickly – According to an article published in Thunderhead.com, 25% customers migrate to competitors just after one bad experience. Therefore, you need to respond as quickly as possible and pacify your customers. It takes some micro seconds for an issue to get viral on social media platforms. Therefore, it's better to take control of the situation before it gets worse. Don't forget, 65% Twitter users expect a response within 2 hours, states an article published in Truconversion.com
Yeah, true! You may not provide them with a solution at that very moment, but it's essential to address their concerns and let them know when their issue will be resolved and the reason for your taking so much time.
This will assure your angry customer that you are looking into the matter and that they are of prime importance to the company. According to Hubspot, if you respond quickly, 34% are likely to buy from you, and 43% are likely to encourage friends and family to do so as well.
Here's an example:
Maker's Mark reversed their decision of reducing alcohol content in their product after getting negative response from their customers. They quickly reverted to all the comments by issuing a social statement regarding their taking their decision back.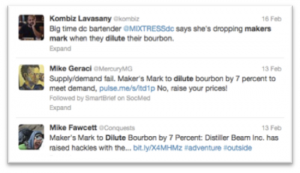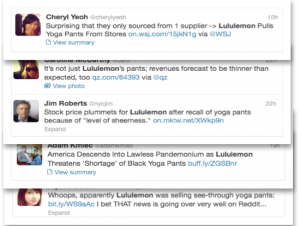 Deliver Authentic Apology – Cyberalert.com states that public apologies on social media and review websites significantly impact brand reputation and customer perception. Craft your apology in a way that looks genuine and earns respect. Remember, apologize and do not make an excuse, there is a difference between the two.
While a strong apology can turn your angry customers into loyal ones, a flimsy one can aggravate them further. Also, there is no harm in making your apologies public as this will only help in building your image of a responsible company.
Here's an example:
A representative of FedEx was caught throwing a package over a customer's fence, the company accepted its mistake by posting a blog "Absolutely, positively unacceptable" on social media. They also included a video from company's senior vice-president Matthew Thornton in the post to make the apology more authentic.
Behave like Friends – While handling unhappy customers, make sure that you talk to them as friends. According to Huffington Post, nurturing a friendly relationship with your customers is vital to growing a successful business. Don't ever use fake names or pictures while talking with your customers as it gives a bad image. Similarly, you can address your customers by their names like their friends do.
Calm them down by offering them something that will make things alright. Just aim at bringing that smile back on their face.
Here's an example:
See how Zappos deals with its unhappy customers in the friendliest way possible. Check out the way Zappos interact with its customers on social media sites, it's as if two friends are talking. This is perhaps the reason for Zappos getting 75% of its purchases come from repeat customers!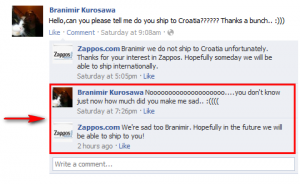 Show Your Efforts – Like we said earlier, apologize publicly so that people know what all you are doing to resolve a particular issue. Though there is nothing wrong in sending a personal email to the customer, people who must have read the negative post about your company will never get to know the efforts you made to fix the issue and retain the customer. In fact, there are chances that people think that your company is too careless to respond if you send a private message.
Remember, organization is the key to great apology email. Do well to ensure that vital branding elements such as your custom logo design and company name, etc. pop out. In addition, make sure that your contact details are easily spottable. Don't forget to add social share buttons to make it easy for customers to share feedback about your brand on social media.
Here's an example:
Graco's transparent use of its Twitter account helped it get valuable information about serial number and repair kits out much more quickly and economically. Apart from this, majority of its customers were delighted with how the company kept them updated during its product recall.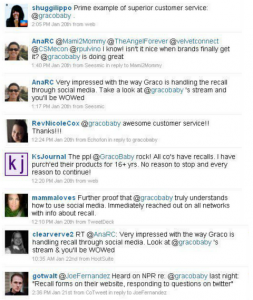 Over to You
An article published in TruConversion.com states that a dissatisfied customer will tell between 9-15 people about their experience. Around 13% of dissatisfied customers tell more than 20 people. Therefore, building a healthy relationship with your customers by giving them a quick response is vital to the growth of your business.
No matter how angry a customer is with your product or service, you can make things better by interacting with them.
We are sure that these 5 strategies will work wonders in your efforts of dealing with unhappy customers.
All the best!